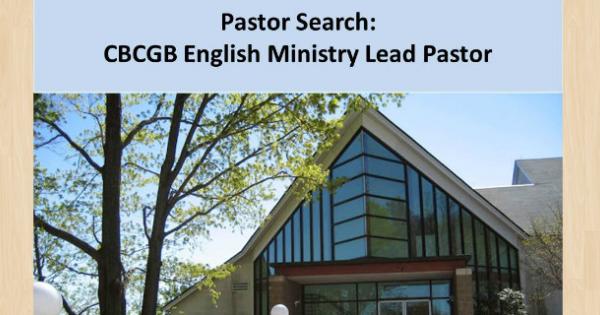 Pastor Search: CBCGB English Ministry Lead Pastor
Position Summary
CBCGB is seeking a Lead EM Pastor at CBCGB to replace its current Lead EM Pastor, who is retiring after 15 years. This is a unique opportunity to come and lead a congregation at a pivotal moment in its long history: evolving beyond being just an English­-speaking congregation within a Chinese Church into a multicultural ministry with a distinct brand and identity of its own, but the full backing of its parent church. 
To guide this transformation, the Lead EM Pastor will drive both existing and new ministries and be the primary communicator with the congregation as the principal speaker from the pulpit. Additionally, the Lead EM Pastor will establish the culture and practices under which EM can become effective in welcoming and caring for a diverse set of people, across different cultures, and with growing family lifecycles. 
A successful candidate for this role must possess dynamic preaching skills, able pastoral care, and strong leadership so as to guide EM through its evolution and establish new areas of growth and ministry. Furthermore, this candidate must be able to collaborate well both with the lay leadership within EM and the broader CBCGB church leadership to execute effectively. Finally, this candidate must be able to understand the EM congregation's needs and establish an effective ministry to meet them.
Reporting Relationship 
The Lead EM Pastor will report to the Senior Pastor, under the leadership of the Board of Elders. 
For details and additional information
https://www.cbcgb.org/em/pastor-job-search?  
Any qualified candidate interested in this position should apply by sending an email and resume to: