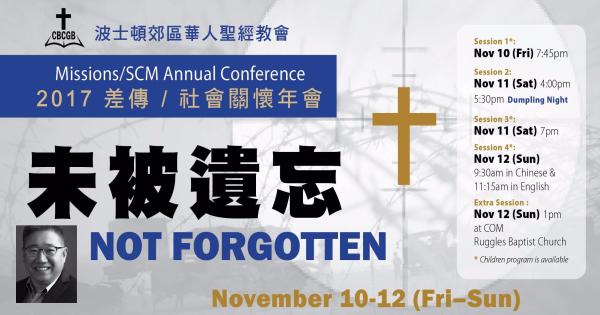 宣教/社會關懷年會: 將於11/10-12日舉行。主題: 「未被遺忘」,由曾在朝鮮勞改兩年的宣教士裴埈皓主講.
Mission Conference, speaker: Kenneth Bae, spent two years hard labor in North Korea, title: "Not Forgotten".
   11/10 (週五)    7:45pm   第一講 Session 1
   11/11 (週六)    4:00pm   第二講 Session 2
                           5:30pm   餃子餐會 Dumpling night
                           7:00pm   第三講 Session 3          
   11/12 (主日)    9:30am   第四講   Session 4 (中文 Chinese);  (英文 English at 11:15 am)
         1:00pm  特別講座(在城區) Special topic at COM, Ruggles Baptist Church
Speaker Bio: KENNETH BAE is a Korean-American missionary.  Born in Seoul, Korea in 1968, he immigrated to the United States in 1985, grew up in Torrance CA, and attended the University of Oregon and Covenant Theological Seminary.  After moving to China in 2006, he started a tourism enterprise, planning trips to North Korea.  In 2012, he was sentenced to 15 years of hard labor in North Korea for preaching against the government and "hostile acts" against the Democratic People's Republic of Korea (DPRK).  Miraculously, he was released 2 years later in Nov 2014.  He serves with Youth With A Mission (YWAM) in China and Korea, and is starting "Nehemiah Global Initiative" - a NGO for North Korean refugees.  Kenneth is a husband and a father of three young adult children.
裴埈皓是一位韓裔美籍的宣教士,1968出生於漢城,1985移民美國,在加州Torrance長大,畢業於俄勒岡大學與盟約神學院。他2006移居中國後,辦了一家旅行社,專服務探訪北韓的遊客。2012北韓控告他傳講反政府的思想與對朝鮮做出敵對行為,判刑勞改十五年。然而他卻於兩年後的十一月獲釋。裴埈皓服事於青年使命團在中國和南韓的事工。他正籌辦「尼希米國際倡議」─一個服務朝鮮難民的非營利機構。裴埈皓與妻子生有三個青少年。 
宣教和社會關懷年會義賣活動:需要志願者參與及提供工藝品/烘焙食品,收益將全部用於宣教基金. 詳情請聯繫羅再瑜姐妹sarahluo12@gmail.com或 Angela Lee 姐妹angelalee@alum.wellesley.edu. 請上網填入你的名字, 提供義賣的物品或食品,以及擔任義工時間https://goo.gl/forms/bm2wdalrzg12Xa7e2.